Hello!
Thank you for stopping by!
Tervetuloa jos olet Suomesta!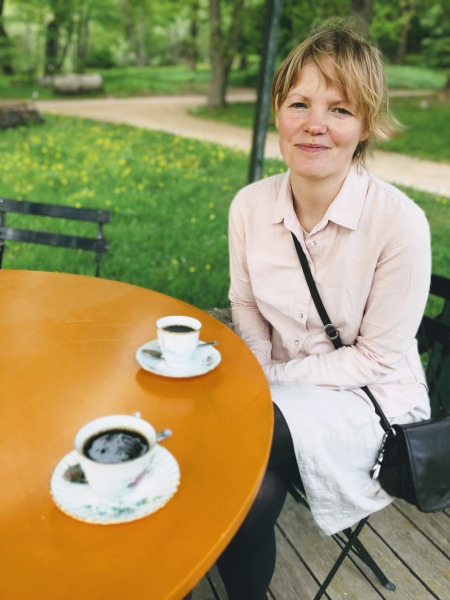 I'm children's author Anna Anisimova. I was born in Eastern Siberia, in the small village Kropotkin, and spent my childhood there, among little mountains called «goltsy» and cedar elfin, in a very cold place where people mine gold—my book Kedrovyi Slonik (Cedar Little Elephant) tells about this place. Well, but last years I live in Helsinki, the city that I am in love with—and someday the books I am working on will tell about this.
My diploma specialty is journalist. I studied at Novosibirsk State University that is located in a Siberian scientific center called Akademgorodok. This is one of my dearest places in the world, a place that gave me a friendship, and I have a book Istorii Tsvetnogo Proezda (The Stories of the Color Street) about the friendship of several children who live in this scientific center on Tsvetnoy Proezd where I lived many years ago.
While studying at the university I worked on the creation of newspapers for children and also I worked in the children's camps and created stories with children. Therefore when I started working as a journalist and editor I realized that writing for children is the thing that I like to do the most, so I concentrated on this. And I was incredibly lucky to study at the seminars of such great Russian authors as Mikhail Yasnov and Sergey Makhotin.
My first book Nevidimyi Slon (The Invisible Elephant) was published in 2013. It was a story about the life of a little blind girl which appeared thanks to my university friendship. When this story was published it aroused great interest among readers. Therefore I wrote a few more stories about this little girl and the full book Muzyka Moego Dyatla (Music of My Woodpecker) was published in 2020. The book Nevidimyi Slon (The Invisible Elephant) was included in the 2017 IBBY Selection of Outstanding Books for Young People with Disabilities and was staged as a performance by the Theater Pilgrims (Novosibirsk, Russia) in 2018. And the book Muzyka Moego Dyatla (Music of My Woodpecker) was staged as a performance at the Zheleznogorsk Puppet Theater and at the St. Petersburg Theater Three-Four in 2021.
This book is my principal text. It is a story about blind child who can see a joy of existence despite of absence of eye-vision. A metaphor of vision is significant for me as an author. My work in my texts is always try to see new words and new meanings, to see important and amazing inside usual and foreign.
My books are mainly addressed to children of preschool and primary school age. I write only fiction texts because my interest is how to tell a story with fantasy and power of words, not facts. The most important themes for me that are developed in different mixes in each of my books are the theme of the place, the theme of children's everyday life, the theme of play, the theme of friendship and the theme of diversity. For example the book Kapitan Borsch (Captain Borsch) tells about the captain who cooks borsch every day because his yacht floats by borsch. On the one hand it's a book about a child who can imagine himself as a captain Borsch and play whole day together with a friend – a yacht. And on the other hand this is a book about diversity: you can be such a strange captain if you want. Whether you are a little boy or grandmother or student. And in this book there is no real place but it is behind the stories: I created this hero on a ferry that travelled on the Baltic Sea from Helsinki and the first edition of the book was illustrated by a Belarusian artist Inna Paporotnaya who painted her city of Grodno as a picture for this book. In addition the book Kapitan Borsch (Captain Borsch) is my first book that was translated into another language—Ukrainian. And probably this is my most popular book among bilingual children that live in different countries.
Recently I as an author most often have meetings with Russian-speaking bilingual children. Therefore I have a creative course for children Malenkie Istorii (Small Stories) in online-school Bilingvy Plus.
Also Anna Sidorova, a translator from the Finnish language, and I are leading a discussion online-club Nevidimyi Slon (The Invisible Elephant) at the Finnish Foundation Cultura (Cultura-säätiö)—about reading, books for children and Russian language in Finland. And I glad to invite you to this club!
If you want to learn more about my books you can do this in the Russian version of my site (Google Translate will help you). Or you can watch my performance at IBBY-seminar in Finland here—in Russian with Finnish subtitles.
Or read about my work on the site of Suomi-Venäjä-seura.
If you are interested about book Muzyka Moego Dyatla (Music of My Woodpecker) you can see catalogue of Genya aGency.
If you live in Finland you can find my books in Helmet libraries.
If you want to contact me don't hesitate to do it in English or in Russian: hvostikleta(et)gmail.com
or
instagram.com/hvostik_leta.
I am always glad to answer your questions.